Believe it or not a hearty group of antique and junk dealers set up at the Wellfleet Flea Market all year long. Sunday was such a lovely day to go out and see what everyone brought to sell. I bought a few things. Nothing fantastic but I will make money when it all sells. My friend Susan was with me. She had been on The Cape to work at a high end auction on Saturday afternoon. She crashed at my house to shop on Sunday. We set up at many of the same antique shows. My dogs were so happy to have a guest to snuggle up to while they slept. Susan found a bunch of interesting sterling jewelry and a funky 60's painting. Click the picture below to check out her current eBay auctions. I am sure this week's haul will be making it on to eBay over the next few days.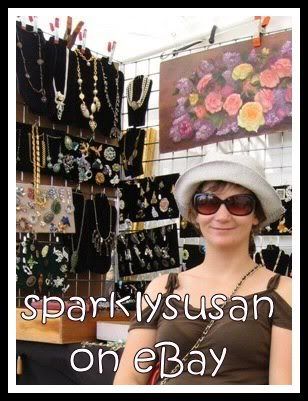 I like junk! And I like to buy from people nice and interesting people. Above is one of my favorite dealers who sells in Wellfleet regularly.


I bought these super cool antique chandelier parts on Sunday too. I have no idea if I will make something with them or if I will save them for shows next year. There was just no way I could leave the market without them.

On the way back to my house we stopped at a few of the group shops in Dennisport and Harwich. I found a bunch of 50's necklaces which I immediately brought home, cut and restrung them in to the bracelets you see below. I am calling it The Vintage Restring Project. They are not new for me I have just not done them in a while. I have been stock piling broken or injured necklaces for a while now. Time to get stringing!
The pink set above are my favorite. Most of the beads in these bracelets are glass or or pearl and all the beads are vintage except a few high quality large faceted Quartz rounds I added to a few.

Here are a few shots that show my pretty new tattoo done about 2 weeks ago by Cape Cod tattoo artist extraordinaire Michael L. Tupper...and yes, it hurt like a mo-fo. However Michael has a very light touch and it was truly comforting to be worked on by someone I have known for 20 years.

I also got some great textiles and a yellow chenille I need for chenille patchwork quilts in the one of the antique malls. I have some bigger quilts in the works for next season. There were quite a few requests for them this past show season. They are a lot of work...Let's see how many actually come out of my studio in a completed state!
Hope everyone had a peaceful and yummy Thanksgiving...Emily